Reported Crop Circles for the State of Oregon -

Pendleton, Umatilla County (July 4, 1998)
A counter-clockwise swirled circle and ring approx. 50' diameter, with the ring being about 3' wide. Located on the downslope of a hill in the field, it was just 200' north of the airport's runways at Pendleton Airport, and was first seen by the airport's control tower.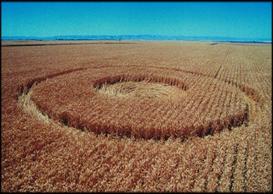 Crop type: wheat
Source and photo:


City / County / Date:
Pendleton, Umatilla County
(July 4, 1998)
Ashland, Jackson County (2007)