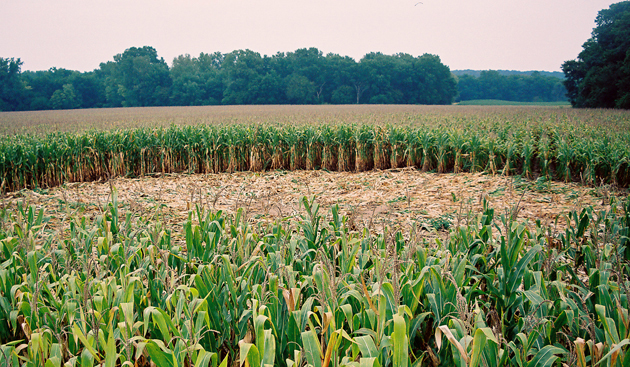 August 21, 2005 - Coles County, IL Photo: Jeffrey Wilson
Thank you for visiting the homepage of the ICCRA!
50th Anniversary of Crop Circle Report in Veblen Township, Marshall County, South Dakota - 19 Aug 1965
50 years ago this summer is the anniversary of one of the earliest and most-clearly documented crop circles here in the USA, in the small, rural community of Veblen Township, South Dakota. On Thursday, August 19, 1965, The Journal (of Britton, Marshall County, South Dakota) on their front page ran an article accompanied by a photo of farmer Willard Hill and Marshall County Extension Agent Richard Durland crouching behind a swirled circle of wheat. The article detailed that this was just one of twenty-seven circles that had mysteriously appeared on Willard Hillís farm. This early crop circle report might have been lost to time, had the County Extension Agent Richard Durland not taken the time to follow-up on the mystery by contacting the local Air Force base as a way of examining all possible avenues for an explanation. Fortunately, the base commander forwarded The Journal article and Durlandís letter on to officers assigned to Project Blue Book. Although Project Blue Book declined to assign a case number and investigate this incident officially, they nevertheless created a valuable record of this early USA crop circle.
Read the full pdf report here.
May 21, 2015 - Gray, Tennessee Crop Circle

Photo: John Meyer
View the full Investigation Report.
-----------------------------------
ICCRA Members can now meet on Facebook!
Welcome to the official website of the Independent Crop Circle Researchers' Association [ICCRA]. This website is designed to serve crop circle researchers and members of the general public who have an interest in crop circles - specifically in American crop circle formations - with as much of the information about USA crop circles (and crop circle research in general) as we can freely provide.
The ICCRA, as an organization, is dedicated to cooperative and collaborative, objective research about crop circles amongst a variey of interested researchers. On these web pages you will find a repository of the investigative field reports of the crop circle formations that members of the ICCRA have investigated personally, as well as an historical archive of additional crop circle formations that have been reported in the United States of America from nearly all fifty states dating back to the 1800's. You will find summary statistics about USA crop circles, as well as explanations of crop circle investigative techniques such as the L-NEAT, and other methods and tools used in researching crop circles in the fields. This site also serves as a repository for all of biopysicist W.C. Levengood's Pinelandia Labs crop circle research reports and his additional published scientific papers and patents.
For anyone with a serious interest in understanding the details about crop circle formations, we hope that you will find those details within this site, but feel free to contact us or contribute additional information if you know that we are missing information, or that we have made a mistake. We are trying to be as complete, as accurate, and as thorough as possible in providing the information herein. Huge thanks go out to all the crop circle researchers, farmers, and landowners who have contributed this material or granted permissions along the way!
Above all though -- ENJOY!

The Independent Crop Circle Researchers' Association [ICCRA] began as a small cooperative group of individuals in the Midwestern United States who have long pursued serious research into the crop circle phenomenon with the principle of open collaboration. This 'team' of researchers has steadily grown in number...more
********
Check out the other events to see ICCRA at!

********
UPDATED: Years -
USA Reports!
If you wish to report a crop circle please contact us.